Portable compressors with MMZ diesel engine (Belarus) 77kW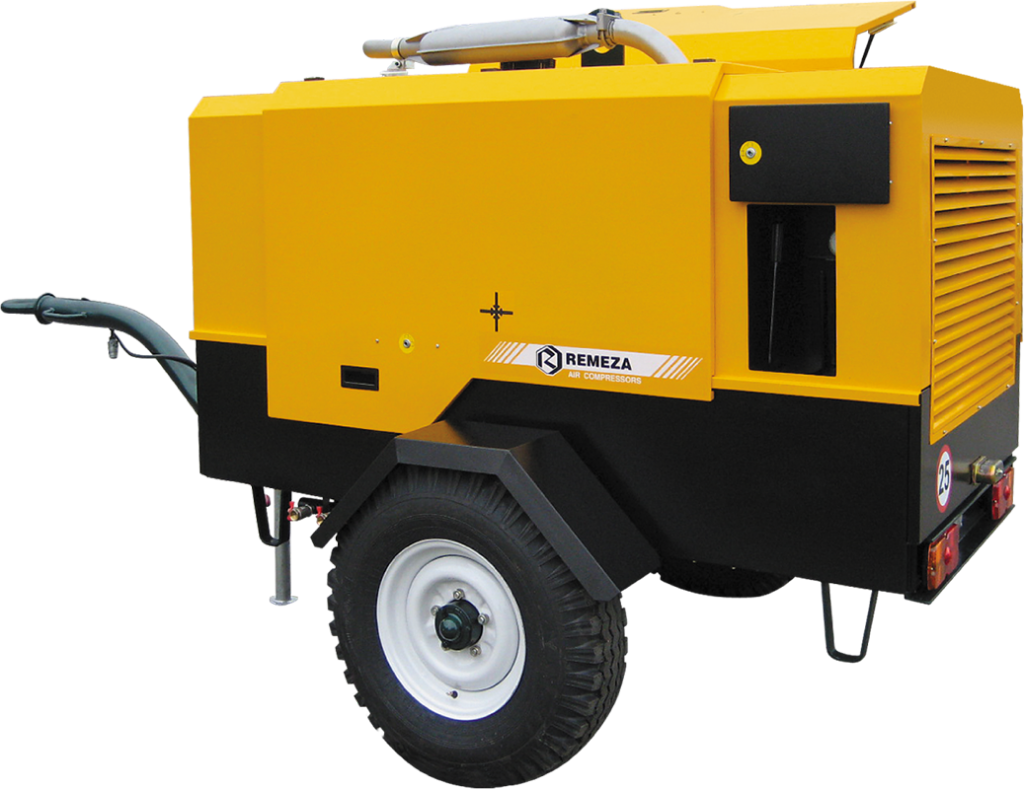 Technical characteristics
Model
DК-10/10

DК-12/7
Air flow, m3/min
10
12
Operating pressure, bar
10
7
Quantity and size of connections, pcs
3xG3/4"+1хG1 1/2"

3xG3/4"+1хG1 1/2"

Engine
MMZ
MMZ
Type
D245
D245
Fuel tank capacity, L
120
120
External dimensions of compressor on wheels A×B×C, mm (weight, kg)
3800×1750×2050 (1750)
3800×1750×2050 (1750)

External dimensions on frame A×B×C, mm (weight, kg)
2250×1250×1600 (1600)
2250×1250×1600 (1600)

DК-....
- diesel driven compressor stations mounted on chassis
DК-...Р
- diesel driven
compressor stations
mounted on frame
Junction of the diesel engine with a screw compressor unit via a clutch.

Remote control, control levers and delivery nozzles are brought to outboard panel of the plant body allowing to control the plant without opening the cover.
Removable drawbar and torsion-bar suspension – mobility, ability to choose the way of transportation and usage of the device according to the situation.
Presence of the balanced lifting device.
Diesel engine Д245 manufactured by Minsk Motor Plant is widely known on the market, has well developed support service, availability of spare parts on the market, availability of qualified professionals in all organizations providing maintenance and repair of these diesel engines (these diesel engines are installed in the well-known MTZ tractors (Minsk Tractor Plant).
Operating temperature -25 - +45 °C (Option Т).
Usage of a high efficiency screw unit produced by the leading manufacturers from Italy.
Automatic capacity control system according to the actual flow rate of air consumption, with manual override.
Polymeric weatherproof coating - increases body corrosion resistance.
Easy access to all components and assemblies that require regular maintenance.
Emergency protection systems based on engine coolant temperature, low oil pressure in the engine, high oil temperature in the compressor.
Viewing the error log
Protection and emergency stop of the engine with indication:

failure (belt break) of the generator;
contamination of the air filter;
the oil pressure in the engine is below the permissible value;
high engine oil temperature;
high temperature of compressor oil;
contamination of the fuel filter;
low fuel level in the tank;

LCD display, LED indicators.