Modular compressor stations MKR
Highly economical modular rotary
screw compressor
installations MKR series – ready for use solution for providing compressed air in difficult areas in economic ways.
FREE COMPLETE SET OF MODULAR INSTALLATION PROVIDES:
Compressor equipment with the required performance and, pressure up to 35 bar;
System for preparation of compressed air with required purification level and dew point;
Gas separation system;
Heating and ventilation systems;
Systems for automatic warning and fire-fighting;
Automatic systems for controlling the installed equipment.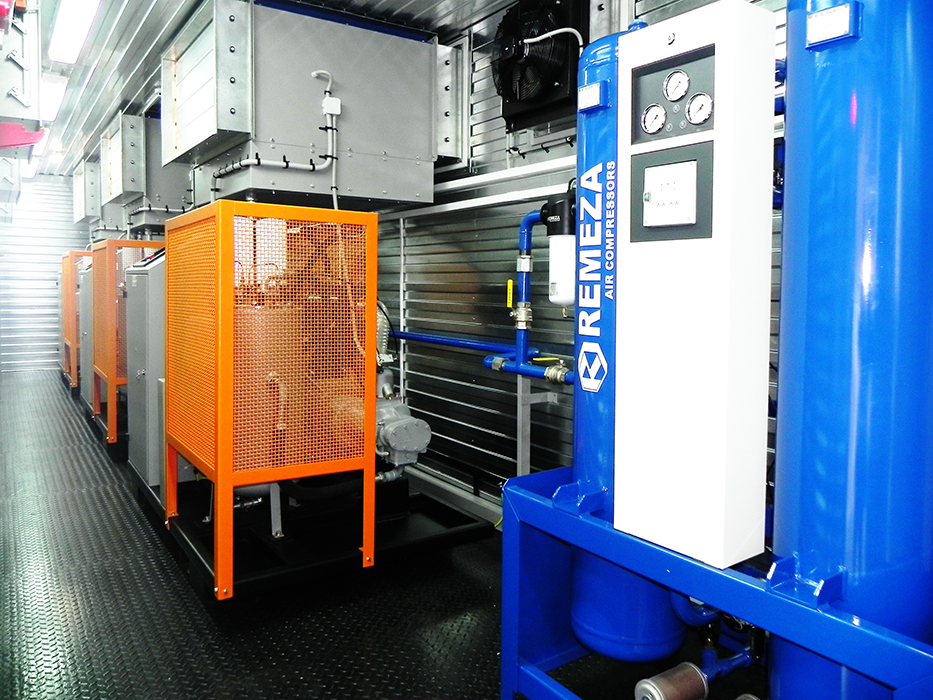 Modular compressor installations based on 20- and 40-feet railway container, naval version, compared with installations in permanent structures, provide significant economy in resources and time, construction expenses excluded. If compared with installations based on house-type, these are mostly equipped having higher protection and high automated control levels.
The installations have the standard operation temperature range from -40 to +40°C.
CUSTOMER RECEIVES THE MODULAR COMPRESSOR INSTALLATION ENTIRELY COMPLETED AND READY TO OPERATE, MAINTENANCE DOCUMENTATION PROVIDED.
The installation is equipped with general switch-board fitted with power distribution, control, alarm and remote operation systems. Option for automatic switch of ACB (automatic circuit breaker, for 1st class of power supply) providing no-break power;
The installation is operated both directly and remote controlled;
The modern electronic operation system optimises operation of the modular compressor installation reducing energy consumption for generating compressed air;
During winter, power is saved through usage of heat from operating compressors; at stand-by mode the installation is heated by fan heaters;
Systems for heating, ventilation with air conditioning (heating and operation of input-extract shutters with air flow through straining cloths), lighting, fire-fighting and fire alarm allow location in open areas;
Compressor installations and equipment for drying and purification of compressed air are manufactured with units from the world's top suppliers according to European quality standards, most space-efficient and rational ways of setting are applied for highest efficiency and best maintenance;
If technologically required by customer, modular compressor installations can be fitted with:

compressor equipment – up to 102 m3/min (730kW);
drying equipment: refrigeration-type with dew point +3°C, absorption-type with dew point from -20 to -70°C, hybrid-type with option for dew point +3°C or -40°C;
Ecotec Converters for providing oilfree air;

Air tanks and condensate drains;

systems for filtering of condensate from oil and other particles.

Design solutions provide location of compressor equipment in noise insulation house and in open version for efficient placing of equipment with high capacity, saving of space and resources.
Examples of block schemes of modular compressor stations: